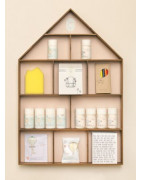 LE COIN DES ENFANTS
The new "Osmè Baby and Kids" line of cosmetics and services - entirely designed for the delicate skin of babies and toddlers - is formulated with organic active ingredients under the organic Cosmos certification, which controls the entire manufacturing process and lists the organic and natural ingredients on the label. The combination of these two features makes the line quite unique on the market.
The hygiene and protection products dedicated to children are tested under pediatric control to ensure non-aggressive formulas,
formulas, developed with superior technology and with a perfect texture. Enriched with organic active ingredients such as shea butter, cold-pressed sweet almond oil, mallow, calendula butter and aloe vera, to ensure diffusion, absorption by the skin and durability of the action.
NO MINIMUM ORDER... THE INDICATED PRICES ARE INCLUSIVE OF TAX.